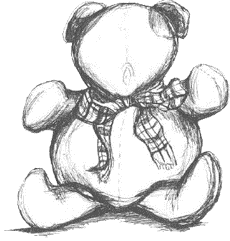 Contact Us!

Phone Number: 3187791735 or

                            407-754-5871

"Memory is a way of holding on to the things you love, the things you are, the things you never want to lose."

~Kevin Arnold

Whether you are making memories with a special event such as a wedding or you are cherishing the memories of your loved one you can have your memories made into heirlooms for your family to treasure always.

For thirty years I have been making the special occasion and custom bears including the nursery and sports bears.  The first memory bear I created was from my aunt's mother's threadbare quilt that I was able to restore in bear-form for her family to have a special remembrance of their loved one.  I have been doing it ever since. 

Because of my good penmanship I addressed envelopes for our local postmaster and her church for a penny a piece.  So, I have literally been addressing envelopes since I was ten years old.  I love to write and feel that I have a gift since my calligraphy is my natural handwriting.  Let me help make your special occasion even more memorable with this unique and personal touch.

Birthdays have always been a special event in my family.  By having a custom and personalized banner to be used for years to come for your birthday or someone in your family especially children you can create a fun tradition to honor each loved one on their special day.